sustainability
products: wasteless
Levi's® Waste‹Less™ Collection
Water is just one example of the resource constraints we are facing across the planet. Looking into the future, there's no guarantee that there will enough land available to meet global demand for cotton, the main input for our apparel.
So to be a successful company in a world that is increasingly resource-constrained, we need to continue down the road toward achieving closed-loop apparel — while incorporating other alternatives to virgin raw materials.
This is why we launched the Levi's® Waste<Less™ collection of products that are made of 20 percent post-consumer waste- specifically, recycled plastic bottles. That works out to an average of three to eight plastic bottles per pair.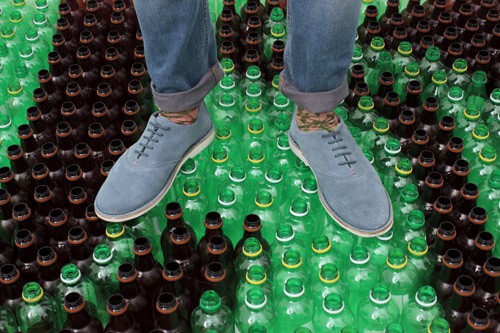 To date (since the collection launched in Spring 2013), we've used 11.9 million recycled bottles for products such as Levi's® 511™ Skinny jeans, Levi's® Trucker jackets and the women's Levi's® Boyfriend Skinny jeans.