As a young boy, Bob Gargani felt adrift in Los Angeles. It was hard enough being an East Coast transplant (he hailed from Philadelphia) but it didn't help that he simply didn't look the part of his peers – that is until he slipped into his first pair of Levi's®.
Bob, who began in sales in 1971 and became a Vice President of Sales in 2001, shared his personal experience with the brand he would later work for. As he tells it, he never forgot how wearing a pair of Levi's® gave him the confidence he needed as the new kid in town.
Stories like Bob's serve as an integral thread woven into the vast and varied history of Levi Strauss &Co. Among the letters, photographs, thousands of pairs of Levi's®, original art work, and other objects lie the personal accounts and memories that convey the past and what it can mean for the present and future.
This summer, our Archives department set out to capture the history of the company by speaking to those who experienced it first hand. Levi Strauss & Co. Historian Tracey Panek interviewed former employees for the LS&Co. Oral History Project, who were videotaped, with plans to preserve those recordings in our Archives.
"I gathered lots of great information and a deeper understanding of LS&Co.'s development and culture," said Tracey. "The stories were insightful and poignant, ranging from former CEO John Anderson explaining how the low-cut jeans trend came out of Brazil to former Human Resources Vice President Donna Goya describing a hospital visit where she had to enter a ward marked by a skull and crossbones sign in order to see an employee suffering from AIDS."
Maurice Kelly, a former New Accounts manager, spoke of his time with the company in the early 1990s when Levi Strauss & Co. became the first Fortune 500 company to extend health benefits to unmarried domestic partners in 1992.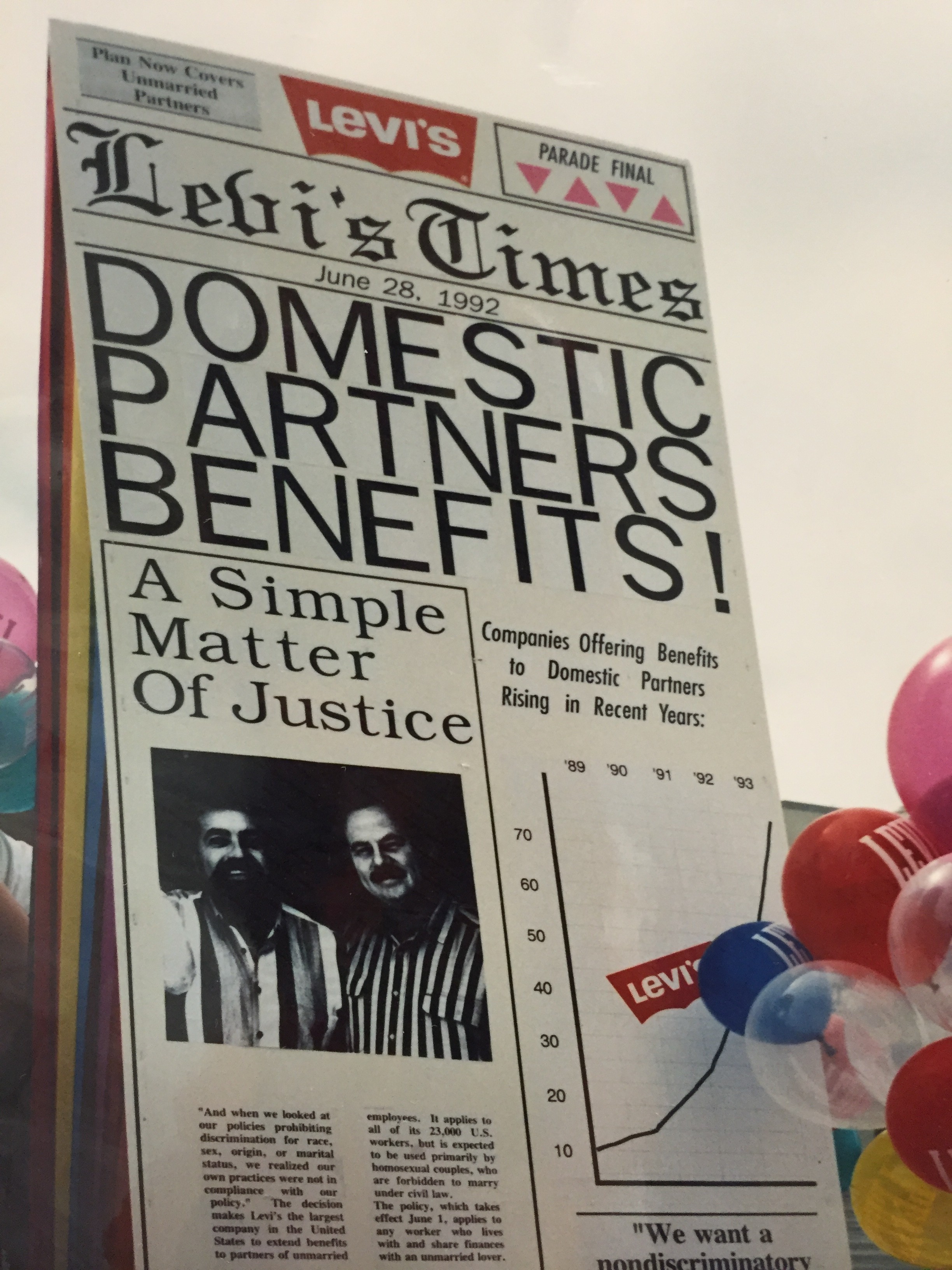 "There was elation. There was euphoria, I would say, is how I would describe the mood. It was like we couldn't believe it in a way," Kelly recalled. "To go from that shame and stigma… and also just all the pain around AIDS/HIV at that time, to have this win for us, for the team, and to have such prominent and visible support was … it was a euphoric moment."
As Kelly's story denotes, the Oral History Project was a meaningful endeavor not only as a medium to preserve the past, but as an opportunity to connect with people who care deeply for the company and its values. That enthusiasm was evident by all of the former employees we spoke with who played a role in helping communities from a profits-through-principles approach. Case in point—Y. M. Koo, a 45-year LS&Co. veteran from Hong Kong who talked about Term of Engagement audits he performed in China and the pride he felt when factories rectified 70-hour work weeks and other unfair practices.
"The Oral History Project has been such a success that we plan to continue interviewing retirees," says Tracey. "I know the stories will continue to influence and inspire future company work."